GBP-H Four Quadrant Medium Voltage Variable Frequency Drive Principle
It is a special Medium Voltage Variable-Frequency Drive developed and produced by our company according to the operation requirements of Mine Hoist. This drive is based on the technology of series power unit and stack wave, high performance vector control technology as the core. This drive consists of rectifier phase shift transformer, power unit and control part.
The output voltage range from 3 kV to 10 kV, different output voltage is with different number of power units, 3 kV has 9 units, 6 kV has 15 units, 10 kV has 24 units, power units on each phase is connected in series and stack wave to increase voltage, the power units on the three-phase is connected by Y type, outputing rated voltage directly.
Powert units
The overall topology of the power unit is AC-DC-AC three-phase full-bridge rectifier, single-phase Inverter output structure. Inside the power unit contains complete Energy Feedback circuit, DC filter circuit, inverter circuit, both rectifier side and inverter side are using controllable power electronic components IGBT, DC link is using electrolytic capacitance. Each power unit is equivalent to a AC-DC-AC voltage source type outputing single-phase Low Voltage Vfd. The control board of power unit completes the high-speed communication with the control system through the optical fiber, control the on-off of the IGBT, outputs the PWM waveform, and collects the fault and the state uploading to the control system, completes the work of the whole unit. Power unit is Modular design, which can be easily disassembled and installed integrally for convenient on-site fault handling.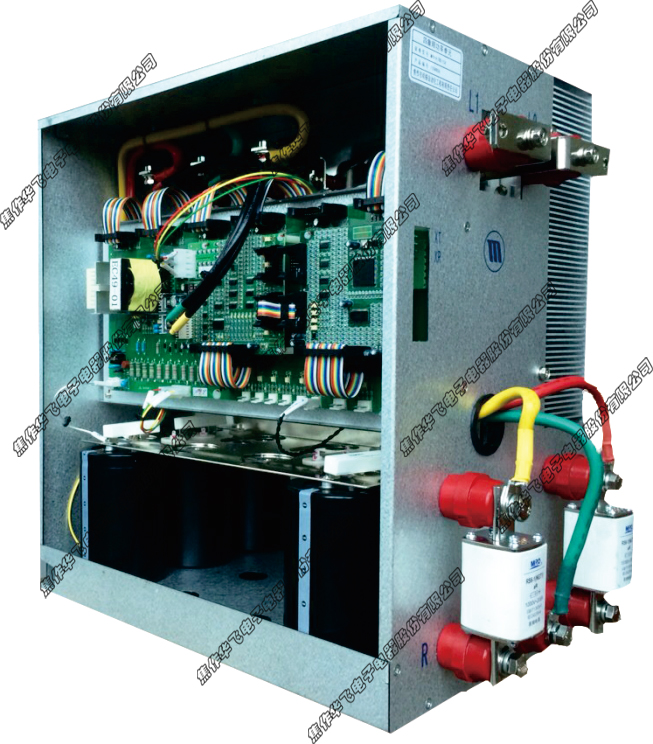 Excellent product performance
◆ Vector control technology, with the functions of zero-speed hovering, multi-machine synchronization, current limitation, etc.
◆ External output filter device is not necessary, with perfect harmonic-free characteristics.
◆ Zero speed with full torque output characteristics, avoiding the slippind, reduce mechanical impact, provide backup safety protection, redundant electrical braking system.
◆ Safe and reliable precharge design of low voltage circuit, decrease current impact, reduce VFD failure rate.
◆ High efficiency, the total efficiency of the system is over 96% under rated working conditions, of which the frequency conversion part efficiency is up to 98%.
◆ Wide input voltage range, more suitable for different grid conditions.
◆ No special requirements for motor, suitable for ordinary medium voltage motor, no length limit for motor cable.
◆ A comprehensive operation monitoring system with up to tens of thousands of operation log monitoring, can timely and accurately lock each fault points.
◆ Perfect self-diagnosis function.
◆ The grid power frequency feedback technology, reduce the VFD wastage, improve the VFD service life.
◆ No need any filter devices before power unit to reduce the VFD volume.
◆ Power unit is controlled by fiber communication, which is complete electrical isolation to improve system security.
◆ power unit is modular structure which is interchangeable for quick disassembly and simple maintenance.
◆ With electrical constant deceleration function to minimize mechanical impact.
◆ With bypass function of fault power unit.
Model Selection and Dimension of GBP Medium Voltage VFD
Model

Rated input voltage (kV)

Rated output voltage (kV)

Rated output current (A)

Motor power(kW)

Dimension (mm)

W*D*H

6kV Output Series Four Quadrant

GBP3-H06/10-06-250

6kV/10kV

6kV

31

250

3000×1600×2534

GBP3-H06/10-06-315

39

315

GBP3-H06/10-06-400

48

400

GBP3-H06/10-06-500

61

500

GBP3-H06/10-06-630

77

630

GBP3-H06/10-06-800

96

800

GBP3-H06/10-06-1000

120

1000

GBP3-H06/10-06-1250

154

1250

GBP3-H06/10-06-1600

200

1600

GBP3-H06/10-06-1800

220

1800

GBP3-H06/10-06-2250

270

2250

4000×1600×2534

GBP3-H06/10-06-2500

300

2500

GBP3-H06/10-06-2800

336

2800

GBP3-H06/10-06-3500

420

3500

5400×2000×2534

GBP3-H06/10-06-4300

520

4300

GBP3-H06/10-06-5400

650

5400

GBP3-H06/10-06-6800

820

6800

6400×2000×2534

GBP3-H06/10-06-8500

1020

8500

10kV Output Series Four quadrant

GBP3-H10-10-315

10kV

10kV

23

315

3800×1600×2543

GBP3-H10-10-400

29

400

GBP3-H10-10-500

36

500

GBP3-H10-10-630

46

630

GBP3-H10-10-800

58

800

GBP3-H10-10-1000

72

1000

4600×1600×2543

GBP3-H10-10-1250

92

1250

GBP3-H10-10-1600

115

1600

GBP3-H10-10-1800

130

1800

GBP3-H10-10-2250

162

2250

GBP3-H10-10-2500

180

2500

GBP3-H10-10-2800

200

2800

GBP3-H10-10-3200

230

3200

GBP3-H10-10-3500

252

3500

8200×2000×2543

GBP3-H10-10-4300

310

4300

GBP3-H10-10-5400

390

5400

GBP3-H10-10-6800

490

6800

GBP3-H10-10-8500

613

8500
Looking for ideal Hoist
Medium Voltage Vfd
Manufacturer & supplier ? We have a wide selection at great prices to help you get creative. All the VFD for Hoist are quality guaranteed. We are China Origin Factory of Medium Voltage VFD for Hoist. If you have any question, please feel free to contact us.